CORPORATE Events & Personal Cooking Classes in Utah
We have the perfect recipe for your special event.
AMAZING PRIVATE EVENTS FOR A UNIQUE, MEMORABLE EXPERIENCE IN SALT LAKE CITY
Let us help you plan the perfect private event! 
Cooking classes are a great way to build camaraderie and relationships, elevate team spirit and morale, foster collaboration and communication, promote strategic thinking, and expand your sense of adventure for your corporate cooking class. Events are ideal for:
COMPETITION STYLE TEAM BUILDING
Let's turn up the heat! Competition style team building events are a great way to have fun in the kitchen while building communication skills, boosting morale and fostering team spirit! Your group will be divided into teams and each team will create a different dish. You'll encounter twists and turns along the way and will be required to use communication and team work to meet the challenges. You'll dine on food prepared by each teams and guests will vote for their favorites. The winning team is awarded People's Choice Award!
CULINARY EXPERIENCE COOKING CLASSES
When guests arrive, they will enjoy an appetizer specially prepared for your group. Your culinary experience will begin with an introduction and explanation of your chosen menu by your chef instructor for the evening. After breaking into smaller groups, your team will use creativity and new-found culinary skills to make a delicious meal. From there, everyone will be seated and served the fruits of your labor!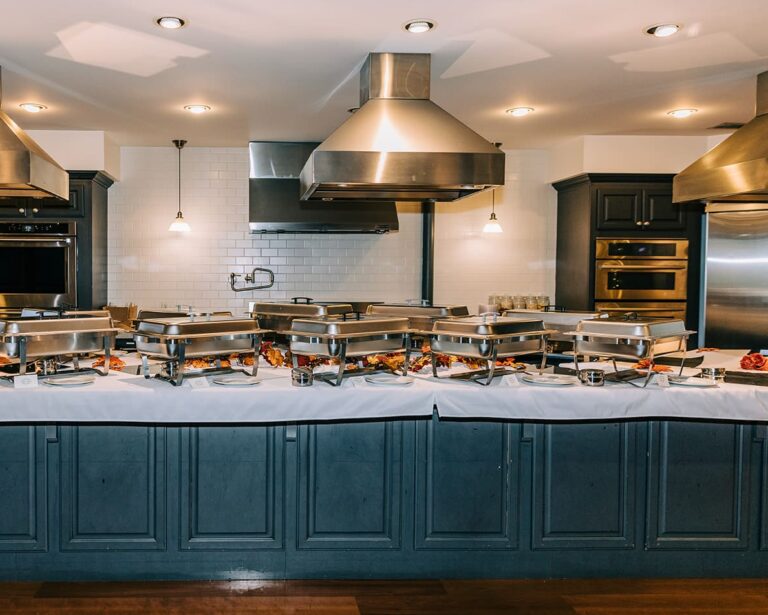 CATERED MEETING SPACE
Looking for a nice quiet space to host your next company meeting, presentation, luncheon, or after-work happy hour? We have a space that is perfect for you! Let SLICE host your next company event. We'll handle all of the details from space to seating to projector and screen and have our culinary professionals prepare a delicious snack or meal, that way all you'll have to focus on is your meeting!
COCKTAIL PARTIES & RECEPTIONS
Cocktail parties and receptions are perfect for mixing, mingling, and eating delicious food. We offer parties, luncheons, and dinners where we cook for you. This style of event is ideal for presentations, meetings, wedding rehearsal dinners, networking, and more! We can do passed or buffet appetizers, plated dinners, chef stations where we're actively cooking for you (maybe the most delicious form of entertainment), and more!
VIRTUAL PRIVATE EVENTS
Virtual private events are designed for guests interested in planning a culinary experience privately for family, friends, colleagues, and clients that are near or far! We will work directly with you to create a fun, engaging and educational experience.
Fill out the form below to request a private event. We will get back to you soon.